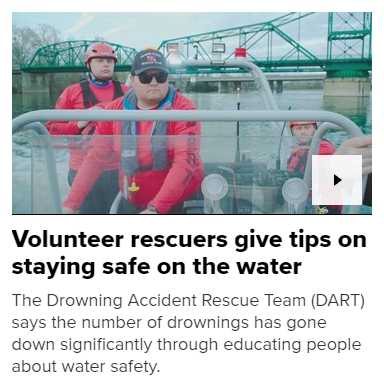 Volunteer rescuers give tips on staying safe on the water
SACRAMENTO, Calif — The Drowning Accident Rescue Team (DART) is gearing up for their busy summer season.
And ABC10 met up with DART at Tiscornia Beach, right along the American River in Sacramento. DART members say it's one of the most dangerous and deceiving spots.
DART, which works with local fire agencies, offered some life-saving tips for those who plan to visit the river as the weather starts warming up.
Sacramento's volunteer rescue team prepares for major weather in the region
SACRAMENTO, Calif. — With major weather hitting the Sacramento this week and early next week, ABC10's Ananda Rochita spent time DART, the Drowning Accident Rescue Team, to see how the volunteer group prepares for major weather.
When DART gets a message, they need to go. The organization, which is completely funded by donations, grants, and fundraiser events, is a mutual aid 911 asset and works with fire departments in the region.
Emergency Crews Brace for Trouble in This Week's Storm
SACRAMENTO COUNTY -- As rain drenched Sacramento, crews were bracing for trouble across the area.
"This is going to be a big storm and our team is stepping up our preparedness," Drowning Accident Rescue Team spokesman Cole Glenwright said.
DART is ready to respond to water rescues at a moment's notice.
Drowning Accident Rescue Team on 'High Alert' Ahead of Storm
SACRAMENTO -- Water was rushing out of Nimbus Dam into the lower American River at a rate of 15,000 cubic feet per second Tuesday, more than quadruple what it was a week ago.
The Bureau of Reclamation has been increasing the flow incrementally to make room for runoff into the Folsom Lake. On Wednesday, it will increase even more.
People, like David Wilding, who use the American River Parkway for recreation were noticing the dramatic rise.
"The water flow has gone up in just the past couple days tremendously," Wilding said.
"That'll result in additional water rescue calls for us generally along with our other agencies," said Cole Glenwright.